Updates:
Friday January 6th
Hi everyone!
Happy new year to you all. To celebrate the start of 2006 we're heading up the Calder to play a gig at the Golden Vine Hotel in Bendigo on Jan 7th. Also playing on the night are local darlings the Red Cherries. This should be a really fun gig.
Later in the month we'll be playing the Green Room as part of their 3rd birthday shennanigans. This year it'll be over 2 huge weekends instead of just the one as done previously. Bands playing the same night as us include Screamfeeder, Tiger By The Tail and Osterberg among others. Get down and wish this awesome venue a happy birthday.
Fi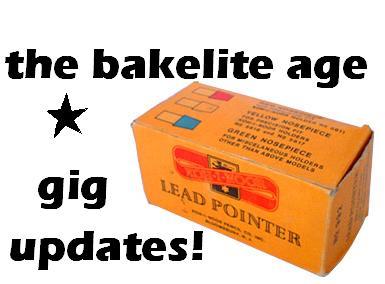 The Bakelite Age
are:
Link
singer, guitarist and band disciplinarian
Kieran
lead guitar and backing vocals
Fiona
bass and backing vocals
Ewan
drums
Saturday January 21st
Green Room
33 Elizabeth Street, Melbourne
The Green Room is celebrating its 3rd birthday.
Playing on the night will be Screamfeeder, Tiger By The Tail, Osterberg, Motor Vehicle Sundown etc.
The Bakelite Age on stage at 11pm.